OZONE ENDURO KITESURF KITE, NEW FOR 2016
There are some great new Watersports goodies in store for 2016. We have seen an exceptional end to the Winter snow and ski season in Europe but as things draws to a close for snow sports its time to take a look at whats coming up for summer with a great range of new watersports goodies including Kites, Wakeboards, Wetsuits, Kiteboards, Kayaks and more.
Ozone Enduro v1 2016 Kitesurf Kite – Enduro kites are available in standard blue, green and orange colours with sizes inlcuding 4m, 6m, 7m, 8m, 9m, 10m, 12m to 14m to cater for all conditions.
The Ozone Enduro v1 2016 kite is a kite design inspired from the outstanding Ozone Catalyst 2015 model. The Ozone 2016 Enduro kite has been refined to make it an all-round kite improving performance for the intermediate to advanced kitesurfer looking for a kite that can really do it all. Any style – freestyle, freeride, wave – any conditions – the Ozone Enduro 2016 will have you ripping!
The Ozone Enduro v1 kite bridges the gap between the extensive range of Ozone kites, offering all the essentials for freeriding, freestyle and wave riding. It incorporates an open-c shape and a swept arc, delivering a large wind range, direct response, amazing handling, boost for jumping and drift in the waves.
Ozone Enduro V1 – You Define The Limit from Ozone Kites on Vimeo.
The Ozone Enduro is a 3 strut, pulley-less, bridled, versatile open C kite, designed for the allround kitesurfer. There a 3 main settings on the bridle to change the riding style from wave, to freestyle and freeride as well as pigtail adjustment to adjust for 3 bar pressure settings. The Ozone Enduro kite turn is between pivotal and arcing and it generates good power when you pull a loop for either wave riding or pulling that mega loop. The Enduro is very stable and predictable in the sky so great whether riding waves or trying that new trick. The kite has great wind range as you can see from the below chart.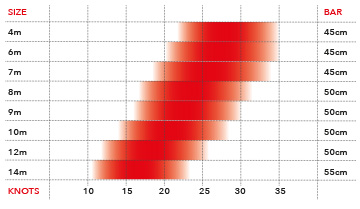 For freestyle the Enduro kite doesn't slack line like the Ozone C4 when landing tricks but it has a constant pull throughout the whole trick albeit not as agressive as the C4 so it is easier to try that new trick for the first time with less risk of that massive powered up wipeout. For freeride it is very predictable blasting around without some great air time to be had with plenty of float. For looping it is great with a smooth powered loop so you can try that toe side carve without getting ripped out of your bindings.
The Enduro relaunches really easily as you would expect from an all rounder kite and the contact-water bar is functional and effective with a great safety system should you need to get out quick.
The contact-water bar control system for the Enduro kite offers the latest in release features, a clean control bar design and a simple easy-to-use trimming system. It has options for expert mode or standard mode where the megatron push away quick releases for total flag out of the kite. The release handle is ergonomic with positive release forces for quick and easy release. Simple re-assembly saves time and gets you back up and riding faster. The bar comes in 4 sizes – 38cm Ozone bar, 45cm bar, 50cm bar and 55cm Ozone contact-water bar.
In summary the Ozone Enduro V1 is a perfect kite package whether you are looking to progress on from the likes of the Ozone Catalyst for a little more punch, go seeking waves without the need for the dedicated Ozone Reo wave kite or trying freeststyle moves with the agressive nature of the Ozone C4. The Enduro 2016 kite is the do everything and do it well kite…